Official Link to Apply for RYSA Nigeria 2023 | www.rysa.ng
Official Link to Apply for RYSA Nigeria 2023 | www.rysa.ng: The Rural Youth Skill Acquisition Program RYSA is organized by the Centre for Rural Youth Entrepreneurship and Environmental Development with support from the Federal Government with UNCDF, UNIDO, and EU as funding partners.
shortlisted candidates will be sent an email to download the instructional material, and study it before the 4th of September, successfully shortlisted candidates will also be sent a link for the Zoom meeting which comes up on the 4th of September
All applicants are to be checking their email till there are see their congratulatory email, and follow all instructions carefully for a successful training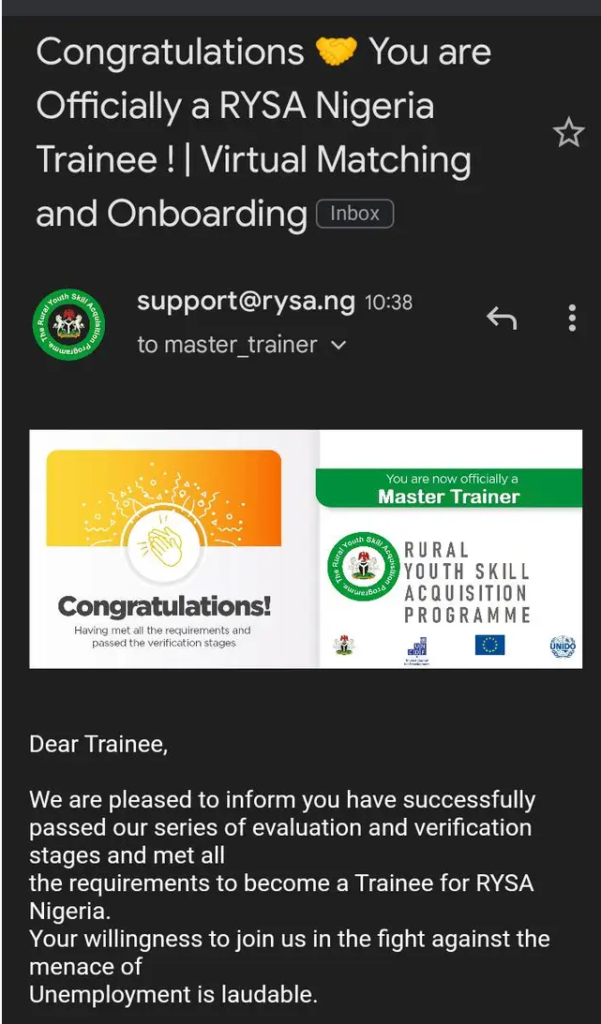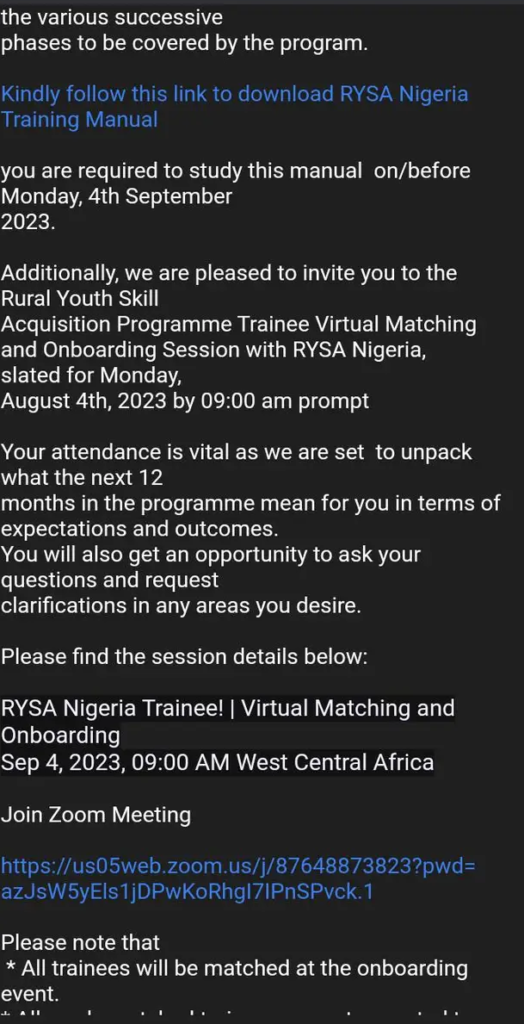 The program is designed to take the skill acquisition programs to the rural youth population with the objectives of creating income-earning opportunities, stemming youth restiveness, discouraging rural-urban drift, and growing the local economy.
The target youth demographic is Nigerian youths who are of native origin from a rural community and are also in need of business start-ups and fundamental business skills.
The RYSA program has two training components as follows:
1. The Practical / Hands-on training:
This entails training beneficiaries of the program to acquire further practical skills required for them to succeed in their chosen enterprises. This training will be carved out by Master Trainers designated across different communities Nationwide.
2. The Community Business School (CBS) training:
The CBS Is a mandatory program for all RYSA beneficiaries to be undertaken once a week for twelve weeks in the course of the practical/hands-on training programs.
The program is meant to equip beneficiaries with life and business skills that are critical to success In life and business.
Community Business School (CBS) Course Outline:
1. Introduction to Business
2. Customer Relations
3. Marketing
4. Book Keeping
5. Community Service and Volunteerism
6. Business Networking
7. Business Modelling
List of Skill-Sets/Enterprises/Ventures :
1. Aluminum Profiling
2. Catering and Confectioneries
3. Electrical Installations and Repairs
4. Fashion and Designs
5. Hair Dressing
6. Makeover
7. Plumbing
8. POP, Screed Making and Painting
9. Tiling
10. Welding and Fabrication
11. Woodwork and Furniture
12. Solar Works
13. Auto Mechanic
Selection Process:
Interested candidates must enroll and pass the proficiency test in his/her chosen skill area to be eligible for the program.
Beneficiaries must complete the Refresher/CBS training before the Start-up Packs presentation.
Candidates must pass the training completion proficiency test and Community Business School (CBS) training test before being awarded a Certificate and given support.
Successful Beneficiaries must subject themselves to the mentoring process of the Centre for Rural Youth Entrepreneurship and Environmental Development.
Benefits to RYSA Trainees:
1. Monthly Stipend
Beneficiaries of the program will receive the minimum monthly stipend of N50,000 in the course of their 6(six) months of training with RYSA
2. Startup-Packs
The Startup-packs for RYSA Nigeria program are;
Eligibility Requirement for RYSA Nigeria
The criteria that must be met by applicants for selection are;
Must be between eighteen (18) to thirty-five (35) years of age.
Must hail from a rural community across the 36 states in Nigeria.
Must have First School Leaving Certificate (FSLC) or higher.
Must have basic knowledge of any of the listed enterprises/ventures, and have shown interest in the RYSA program.
Be willing to learn new skills in the chosen area, which will help grow his/her personal venture after the training course.
How to apply for RYSA Nigeria
Step 1-Complete the online application
Interested candidates should Complete and submit the online application form, which will require confirming their registration with a valid email address and then setting up your contact information This will also involve uploading the electronic versions of the following documents:
Documents Required
If you do not receive the verification email, kindly wait for 10-15 minutes then log in with your registered email address and password.
Do not upload documents that are larger than 500kbs, it will not be processed.
1. Passport Photograph: must be with white background and must be in jpg or png format only.
2. Local Government Certificate of Origin: must be in jpg, png, or pdf format only.
3. Birth Certificate or Sworn Affidavit of Age Declaration: must be in jpg, png, or pdf format only.
4. Means of Identification: This should be either of the following; NIN, Voters ID, Drivers License, or International Passports. These also must be in jpg, png, or pdf format only.
Step 2-Select a Skill-set/Enterprises/Ventures:
Candidates are required to select one preferred Skill-Sets/ Enterprises below for training and empowerment with RYSA.
SN SKILL-SETS DURATION
1 Catering & Confectioneries 6 Months
2 Plumbing 6 Months
3 Hair Dressing 6 Months
4 Make-over 6 Months
5 Interlocking/ Tiling 6 Months
6 Woodwork/Furniture 6 Months
7 POP and Screed-making 6 Months
8 Electrical Installations and Repairs 6 Months
9 Aluminium Profiling 6 Months
10 Welding 6 Months
11 Fashion Designing 6 Months
12 Solar Works 6 Months
13 Auto Mechanic 6 Months
Step 3-Motivation/Personal statement
Interested Candidates are to complete the online Motivation/Personal statement form, this should focus on your motivations and reasons for applying for the RYSA training and empowerment program, and how the knowledge you will gain if selected, be of benefit to you and your rural community.
Related Posts
>FG Grant for 2022/2023 Disbursed By CBN/World Bank- Application Form
>Lagos Neighbourhood Safety Corps 2022: Download List of Shortlisted Applicants
><strong>Link to apply for Borno State Teacher's Recruitment 2022/2023</strong>
>>Lagos State Grant 2023/2024 Disbursed By LSETF | (Up to N1Million)
Step 3-Proficiency Skill Test Enrollment & Guarantors
Candidates should Click Enroll for Proficiency Skill Test button to enroll for the proficiency test (charges may apply).
Please note that All Candidates must get enrolled for the proficiency skill test as it is mandatory.
The test will be conducted online based on the selected skill sets in the next stage of the selection process.
Candidates are advised to take the practice test
Applicants of RYSA Nigeria should fill out and submit the guarantor's form to complete the application process.
For any Proficiency Skill, Test related issues contact p-test@rysa.ng
Step 4-Application Summary
Applicants for RYSA should take the time to review their applications before clicking on the SUBMIT button.
Ensure that all information is entered correctly and there are no typographical errors. This might just be the difference between an automatic rejection and being shortlisted for the next stage of the selection process.
If there are errors in your application after a thorough review, please click on the Restart application button to begin your application from Step 1.
Please note that you will be required to take the Proficiency Skill Test enrollment again (Charges may apply), if you have restarted your application only this time with the correct information you have updated.
After Review and every piece of information checks out correctly, then you can proceed to submit your application. No corrections can be made after submission.
Correct Link to Apply for RYSA Nigeria 2023 | www.rysa.ng