NECO Coordination 2023: How to Participate & Marking Venues in Nigeria
NECO Coordination 2023: How to Participate & Marking Venues in Nigeria: This is to inform coordinators of the National Examination Council (NECO), both old and new members, that the coordination and making of NECO's exam script for 2023 is in progress, coordinators are to report immediately for a 3day training and orientation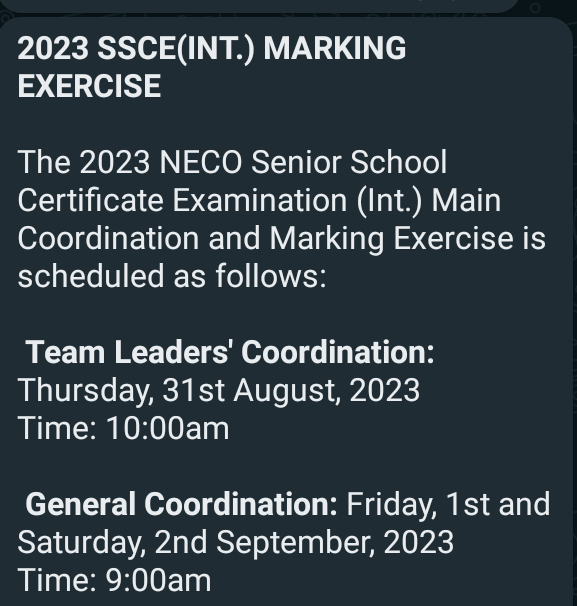 Date- 2/09/2023
There is a slight adjustment on the earlier notice, The 2023 NECO SSCE (Internal) Marking Exercise will hold as follows:
Chief Examiners/EGIs/EGIIs Coordination – 31st August 2023 by 9 am
Main Coordination – 1st – 2nd September 2023 by 9 am
You can print your invitation letter with your phone number as your access pin from www.services.neco.gov.ng
Making a date for 2023
Primary Coordination
The arrival of the Examiner on 17/8/2023
Coordinating meeting 18/8/2023
Departure 20/8/2022
Main Coordination and Making for 2023
NEW DATES
The 2023 NECO Senior School Certificate Examination (Int.) The Main Coordination and Marking Exercise has been rescheduled as follows:
Team Leaders' Coordination: Saturday, 2nd September 2023
Time: 10:00am
General Coordination: Sunday, 3rd and Monday, 4th September, 2023
Time: 9:00 am
Coordination for CES, AGis, Egis 2/9/2023
Main Coordination 03-04/09/2023
Making 05/09/2023
Winding Up 16/09/2023
Departure 17/09/2023
"National examination council (NECO) will start her 2023 coordination and marking of exam script at this date: "National examination council (NECO) will start her 2023 making coordination Friday 1ST of September 2023 with team leaders. While old markers and gate crashers will start their coordination the same month"
Both old and new members (gate crashers) are to report on the 2nd of September 2023 for briefing and coordination timetable
Gate-crashers should go to the venue with their certificates (both original and photocopies) and ensure attendance is taken for the 3 days.
ATTENDANCE at coordination classes is NECESSARY for the 3 days.
CONSISTENCY in the 3-day coordination meeting will secure you a chance. Usually, parcels are issued to those who attend the coordination classes, but the Chief and Team leaders can be funny, by keeping packets for invited examiners who do not attend the 3-day coordination. So, "shine your eyes".
Note that some marking venues "MAY" issue out parcels to examiners when they are done with the coordination for that day.
Documents for Examiners: They mark the scripts of students using a prepared marking guide Your First Degree/HND
Checkers: They cross-check the marks awarded to the students and ensure they are correctly totaled.
OND, NCE, or SSCE. To apply as a checker, visit the venue on the day of coordination, address your letter to THE HEAD OF
MARKING VENUE, (then add the name of the town). Submit the letter to the Secretarial staff, i.e, the marking venue's secretary.
NB: Go to any marking center close to you with the required credentials and attend the coordination session in a subject close to what you studied in school.
Related Posts
>How to Check National Examination Council (NECO) Result 2022
>2022/2023 Nigeria Police Recruitment Form | policerecruitment.gov.ng
>How To Check WAEC GCE Result 2022
>DSS/SSS Salary Structure for BSC/HND/NCE/SSCE (New Increase)
>Latest Job Vacancies in Lagos, Abuja, Ibadan, Kano, and PH 2022/2023
>Links to Airline Job Vacancies in Gulf Countries 2022/2023
>10 Most Valuable and Rewarding Courses To Study In Canada
>How To Apply For Lagos Ride Scheme 2022: Online Application
NECO Coordination 2022: How to Participate & Marking Venues in Nigeria
NECO Marking Venues in Nigeria
1. Aba marking venue, Girls Secondary School, Abayi-Aba
2. Abakaliki marking venue, Holy Ghost Secondary School, Abakaliki
3. Abeokuta 1 marking venue, Rev. Kuti Memmorial Grammar School, Abeokuta
4. Abeokuta 2 marking venue, Abeokuta Girls Grammar
School, Onikolobo, Abeokuta
5. Abuja marking venue, Government Secondary School, Wuse 3
6. Ado-Ekiti 1 marking venue, Christ Girls' School, Ado-Ekiti
7. Ado-Ekiti 2 marking venue, Mary Immaculate Girls Grammar School, Ado-Ekiti
8. Agbor marking venue, Ogbemudein Mixed Secondary School, Agbor
9. Akure 1 marking venue, Acquinas College, Akure
10. Akure 2 marking venue, Fiwasaye Girls' Grammar School, Akure
11. Asaba marking venue, Anglican Girls Grammar School, Asaba
12. Auchi marking venue, Our Lady of Fatima College, Auchi
13. Awka marking venue, Igwebike Grammar School, Awka
14. Bauchi marking venue, General Hassan Usman Katsina College, Bauchi
15. Benin 1 marking venue, Idia College, Benin-City
16. Benin 2 marking venue, Western Boys High School, Benin- City
17. Birnin Kebbi marking venue, Nagari College Birnin Kebbi
18. Calabar marking venue, Hope Waddell Training Institution, Calabar
19. Dutse marking venue, Government Commercial School, Dutse
20. Enugu 1 marking venue, Urban Anglican Girls School, Ogui New Layout, Enugu
21. Enugu 2 marking venue, Federal Govt. College Enugu.
22. Gombe marking venue, Education Resource Centre, Gombe
23. Gusau marking venue, Sambo Secondary School, Gusau
24. Gwagwalada marking venue, Government Secondary School, Gwagwalada
25. The Polytechnic Ibadan, CBT Centre. Ibadan.
26. Ibadan 1 marking venue, Loyola College, Old Ife Rd., Ibadan
27. Ibadan 2 marking venue, Anwar-Ul Grammar School, Eleyele Ibadan
28. Ibadan 3 marking venue, St Patrick's Grammar School, Bashorun Ibadan
29. Ijebu-Ode marking venue, Ijebu-Ode Grammar School, Ijebu-Ode
30. Ikare-Akoko marking venue, Victory College, Ikare-Akoko
31. Ikorodu marking venue, Government. Senior College, Ikorodu
32. Ikot-Ekpene marking venue, State College, Ikot-Ekpene
33. Ilaro marking venue, Yewa College, Ilaro
34. Ile-Ife marking venue, Oduduwa College, Ile-Ife
35. Ilesa marking venue, Ilesa Grammar School, Ilesa
36. Ilorin 1 marking venue, St. Anthony Secondary School, Ilorin
37. Ilorin 2 marking venue, Sheikh Abdulkadir College, Ilorin
38. Jalingo marking venue, Magami Government Day Secondary School, Jalingo
39. Jo's marking venue, St. Murumba College, Jos
40. Kabba marking venue, St. Monica College, Kabba
41. Kaduna marking venue 1, Sardauna Memorial College (SMC) Kaduna
42. Kaduna marking venue 2, Queen Amina College, Kaduna
43. Kafanchan marking venue, Government College, Kagoro
44. Kano marking venue 1, Rumfa College, Kano
45. Kano marking venue 2, Government Secondary School, Tarauni, Kano
46. Katsina marking venue, Government Day Secondary School KofarYandaka, Katsina
47. Lafia marking venue, Government Science School, Lafia
48. WAEC International office, Agidingbi, Lagos
49. Lagos (Agege 1) marking venue,Government Senior College, Agege
50. Lagos (Agege 2) marking venue, Saka Tinubu Memorial
High School, Orile-Agege
51. Lagos (Igando) marking venue, Igando Community Junior High School, Igando
52. Lagos (Ijanikin) marking venue, Nigerian Navy Secondary School, Ojo-Ijanikin
53. Lagos (Ilupeju) marking venue, Ilupeju Senior Secondary School, Ilupeju
54. Lagos (Obanikoro) marking venue, Baptist Academy, Obanikoro
55. Lagos (Surulere) marking venue, A.U.D. Grammar School, Surulere
56. Lokoja marking venue, Bishop Delisle College, Lokoja
57. Makurdi marking venue, Mount St. Gabriel Secondary School, Makurdi
58. Mbaise marking venue, Mbaise Secondary School, Aboh Mbaise
59. Minna marking venue, Ahmadu Bahago Secondary School, Bosso Road, Minna
60. Nnewi marking venue, Maria Regina Model Comprehensive College, Nnewi
61. Nsukka 1 marking venue, Nsukka High School, Nsukka
62. Nsukka 2 marking venue, Govt Technical College (G.T.C), Nsukka.
63. Offa marking venue, Offa Grammar School, Offa
64. Ogbomoso marking venue, Ogbomoso High Sch., Ogbomoso
65. Okene marking venue, Ebira Community Secondary School, Okene
66. Okigwe marking venue, Federal Government College, Okigwe
67. Okitipupa marking venue, Stella Maris College, Okitipupa
68. Ondo marking venue, St. Joseph's College, Ondo
69. Onitsha 1 marking venue, Dennis Memorial Grammar School, Onitsha
70. Onitsha 2 marking venue, Christ the King College, Onitsha.
71. Orlu marking venue, Township Comprehensive Secondary Amaifeke, Orlu.
72. Osogbo 1 marking venue, Osogbo Grammar Sch., Oshogbo
73. Osogbo 2 marking venue, Unity High School, Osogbo
74. Ota marking venue, Iganmode Grammar School, Ota
75. Otukpo marking venue, St. Francis College, Otukpo
76. Owerri 1 marking venue, Government Secondary School, Owerri
77. Owerri 2 marking venue, Emmanuel College, Owerri
78. Oyo marking venue, Olivet Bapt. High School, Oyo
79. Pankshin marking venue, Government College, Pankshin.
80. Port-Harcourt marking venue, Federal Government College, Rumuokoro
81. Sagamu marking venue, Remo Secondary School, Sagamu
82. Sapele marking venue, Chude Girls' (Model) Secondary School, Sapele
83. Sokoto marking venue, Federal Government College, Sokoto
84. Ughelli marking venue, Anglican Girls Grammar School, Ughelli
85. Umuahia marking venue, Girls Secondary School, Umuahia
86. Uyo marking venue 1, Community Compr. Secondary School, Four Towns, Uyo
87. Uyo marking venue 2, Adiaha Obong Commercial Secondary School, Uyo
88. Yenagoa marking venue, St. Jude's Girls Secondary School, Yenagoa
89. Yola marking venue, Adamawa State Poly., Yola
90. Zaria marking venue 1, Demonstration Secondary School, Abu, Zaria
91. Zaria marking venue 2, Barewa College, Zaria"